Parsley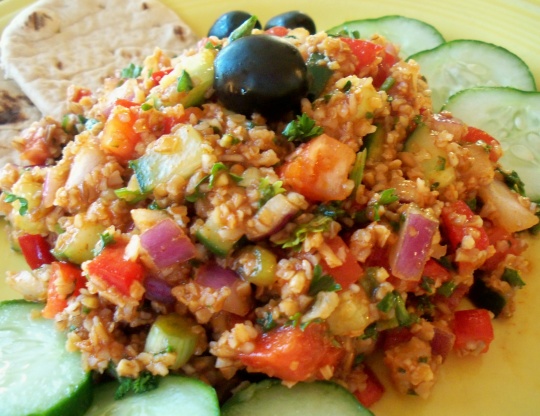 This is a nice light salad for hot days. This salad is very similar to couscous, but the main ingredient is bulgur and here the sour taste is given by pomegranate molasses.

Simple and perfect picnic salad! Used as many fresh locals ingredient as possible. Part of the standard paprika was replaced with Spanish smoked paprika (1/4 teaspoon). Ketchup for tomato paste. Fresh mint from the garden! Lemon cucumbers and standard cucumbers were added. Tossed in a few Turkish? olives-or maybe they were Italian. <<<--I forgot. Red peppers were added last because I like bell peppers only if they are super crunchy. I'll try with quinoa next time not that we are gluten-free but just to try it for fun! Thanks for posting! Loved the salad!
Poor boiling water over bulgur, cover and let soak for 15 minutes.
In the meanwhile prepare all the other ingredients.
Transfer bulgur in a cold bowl and add tomato paste to bulgur and mix well with the fork until incorporated.
Add red peppers and let cool down at least 10 minutes.
Add all remaining ingredients mix with the fork.
Taste the bulgur and add more pepper, salt or molasses if you want some more.
Serve cold or chilled.
Note: Feel free to add more ingredients like olives, tomato cubes, cucumber, and/or what your like.