Rita1652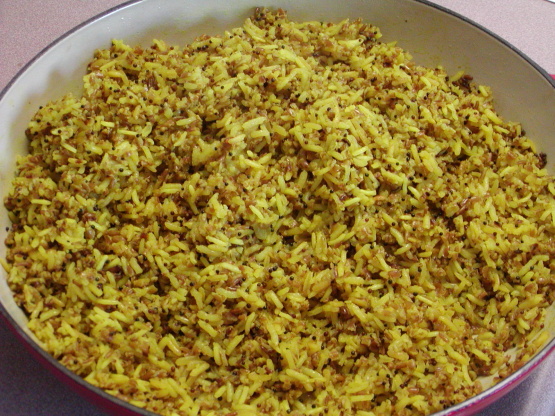 Submitted per request for recipes using bulgur and even though I haven't made this I thought it sounded really interesting and I am planning on making it soon. Recipe source: Bon Appetit (September 1984)

Well Ellie you should give this a try. It`s very good. as I was making it I though about adding onions and garlic. But I didn`t. It was great. I tasted this before adding the lemon and after and both were very good. The only change I made was I used 3 tablespoons of olive oil in place of the 6 tablespoons of clarified butter. Thanks for posting this Ellie!
Melt 2 tablespoons butter in heavy saucepan over medium heat. Add bulgur and rice and stir for 5 minutes or until rice browns slightly.
Mix in broth and bring to a boil. Reduce heat to low, cover and cook for 20 minutes or until liquid is absorbed.
Heat clarified butter in heavy skillet over medium heat. Add mustard seed and cook until mustard seeds begin to pop.
Add turmeric and salt, then the bulgur/rice mixture. Stir until hot. Stir in lemon juice.
Serve immediately.