loof751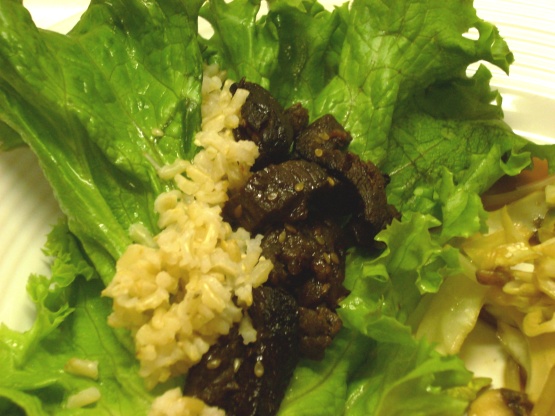 Bulgogi is a Korean Beef dish that is delicious and easy to make. This recipe comes from a friend's mom, who is Korean. I can never seem to make it quite as good as hers, but its still delicious. In the original recipe, she cooked the beef in a skillet, I prefer using the broiler though.

I would suggest that you also add a bunch of scallions chopped up, and some fresh ginger, grated. That will definitely boost the flavor profile. In fact, it's rare to see a recipe for bulgogi that does not contain scallions and ginger.
Combine soy sauce, sugar, pepper, garlic and sesame seeds.
Marinate slices of beef for at least 4 hours in mixture.
Place on broiling pan and cook until brown throughout.
Serve with rice and lettuce leaves for wrapping.