PaulaG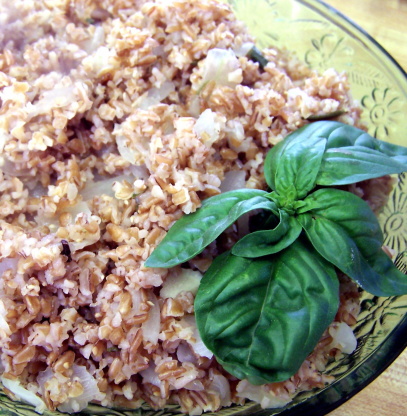 Bulghur is rich in B vitamins and iron. Serve this with Imam Bayildi. This recipe is posted for Zaar World Tour 2005. I've not tried it yet. I found it in a Moosewood cookbook.

This needed too much doctoring for me to give it a fair review. With some work on my part, this was a simple but satisfying side dish. I won't give up on this recipe and plan to use it again with some changes-most notably caramelizing the onions (and then I would stir them into the bulghur just before serving)as suggested in another review. I will also use vegetable broth or stock for the water. Thanks for posting the recipe.
In a covered saucepan, saute the onions in the olive oil for a few minutes, stirring occasionally.
Add the salt, pepper, basil, bay leaf, and rosemary or marjoram.
Cover and cook for about 10 minutes, unil the onions are translucent and beginning to brown.
Stir in the bulghur. Toast for about 2 minutes, until the bulghur begins to darken.
Add the water, cover tightly, and bring to a boil.
Reduce the heat to very low.
Let the bulghur steam for about 15 minutes.
Each grain should be separate and tender, but not chewy. Add a little more water if the bulghur seems underdone, but be sparing, or it will become mushy.
Remove the bay leaf and serve hot.