Bulgar Pilaf With Chestnuts and Spicy Tangerine Brown Butter
Prep 10 mins
Cook 30 mins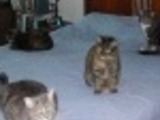 Browned butter is the secret force in Turkish cooking, says Ms. Akin, an expert in Ottoman palace cuisine. This is from a cooking column by Melissa Clark in the 12/5 edition of the New York Times. I reduced the oil and butter (or will as soon as I make this recipe). Use 1 and 4 tablespoons, respectively, if you'd prefer.
Directions
Heat oil with 1 teaspoon butter in a 3 quart saucepan. When butter melts, add onion and saute until translucent, about 3 minutes. Add bulgur and allspice, and saute for 2 minutes longer.
Stir in the broth, chestnuts and raisins, and bring to a vigorous boil. Reduce heat to low, cover, and let cook until bulgur is tender, all liquid is absorbed and there appear to be holes or "eyes" (when it looks at you, it's done) in the surface of the bulgur, about 15 to 20 minutes.
Turn off heat, place a clean dish towel or paper towel between top of pot and lid, and let stand for 5 to 10 minutes longer.
Meanwhile, melt remaining butter in a small skillet. When white foam falls to the bottom of the pan and starts to smell nutty (about 3 minutes, but timing will depend on the amount of butter you use), add zest and red pepper. Cook for 30 seconds longer, then turn off heat.
To serve, mound pilaf onto a platter and drizzle butter and red pepper mixture on top. Sprinkle with cinnamon and garnish with dill.
Most Helpful
This was very delicious! There were so many flavors going on here that melded together beautifully. I couldn't find any chestnuts, so I used cashews instead. Also, I drizzled the butter mixture over each individual serving and then sqeezed a little tangerine juice over it. Yum!!
DELICIOUS. The flavours are divine, and its far easier than I thought it would be. (It looks so hard to a noob like me!) I used marg and paprika instead of the chilli. Healthy, scrummy, different - my only complaint is that there isn't enough of those perfect flavours that so wonderfully meld together and compliment each other! I would suggest making 2 tablespoons of the butter dressing with a teaspoon of orange zest and 1/2 teaspoon of chilli per serving. It may be less pretty, but I'd serve the butter on the side so that you don't have some bits all yummily flavoured ans some plainer parts. I'd also chop up the chestnuts into bitesize pieces - mine were whole. Thanks so much! <3, the NOOBchef.
Divine dish for my meatless meal night! Most might make this as a side but since I'm regularly cooking for one, this was great for me for a main dish. I don't have a regularly scheduled 'meatless meal' day, but I try to incorporate the idea from time to time, especially since I started eating healthier to lose weight a couple of years ago. Since I already achieved my goal and have kept it off for a year, I went ahead with the larger amount of butter and oil, but it would be very tasty without the extra fat. (my nutrition numbers would be different with the slight change, which is fine) I used chili powder for the 'spice' and I used real roasted chestnuts (I'm probably the only person around who had them on hand, lol). The Beau loaned out our camera! :( But I still have more fresh chestnuts that I have to use up before they turn and I know The Beau, aka The Picky Eater, would love this dish. I'll serve it for him as an accompaniment to something, and can't wait to make it again. Thanks Kumquat the Cat's Friend!