3 Reviews
I don't care for Tabasco...I use Trappey's Louisianna Hot Sauce...MUCH better flavor & less heat! Didn't have any cayenne, so I used Old Bay & I also used Lawry's Garlic Powder...turned out VERY good!!! THANKS for the idea!!!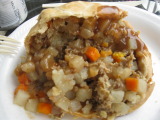 These wings were excellent! I backed off on the heat by adding only 2 tablespoons of the hot sauce and no cayenne pepper and they were plenty spicy for us. I lined the pan with the Release foil which made cleanup really easy. Also, I baked them for 45 minutes because I like them browned well and they were perfect! Delicious keeper of a recipe. Thanks so much for posting it, Sheila.

We all loved these. I made them for a dinner party and everyone really liked them. I have to admit that I was scared that they would be too spicy so, I doubled the butter and added a little more of the "not so spicy" stuff, and less of the "spicy" stuff. Of course, everyone was quick to tell me that they weren't spicy at all. But everyone agreed that they were very good anyway, with a great flavor. They're easy to make too. Also, I didn't put anything on the foil to keep them from sticking, so some of them stuck, so don't forget to do that. That meat is too good to lose!
Buffalo Wings