Dugyb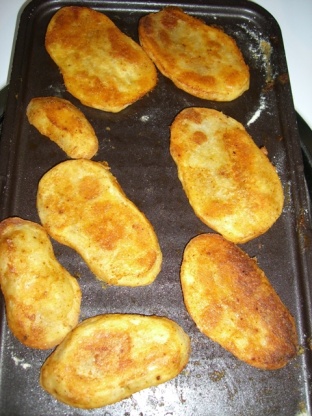 I had some leftover ingredients when I was making my Hooters Buffalo Wings Oven Style, so I sliced up a potato and gave it the same treatment. Turned out great.

This ended up being way to hot for the family of DH and DS's x3. This from big eaters who like everything hot-hot-hot. I used 4 potatoes and cut them into wedges instead of slices. It took only 35 minutes to bake. I"m sorry I can't give this more stars:-(
Cut peeled potato into 1/4 inch slices.
Dust in flour, cayenne, garlic powder and salt mixture.
Refrigerate 1/2 hour.
Dip both sides in melted butter/hot sauce mixture.
Bake (along with Buffalo Wings if applicable) at 400F for 40 minutes.