BB2011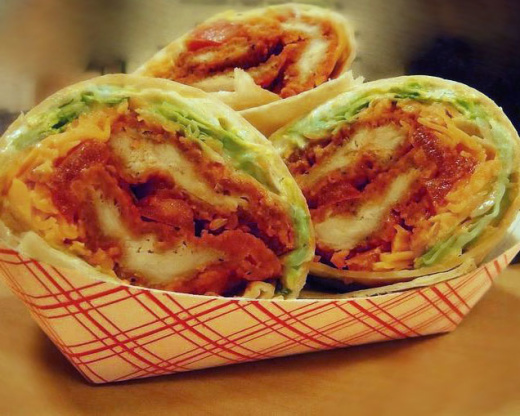 One of the dining halls at my university is well known for their delicious weekly buffalo chicken wraps. It's become an event we call Buffalo Chicken Wednesday. I'm a vegetarian, so I would ask for everything but the chicken and order a veggie burger to put in instead. They must have caught on to this because they started offering buffalo tofu wraps along with the chicken. Here's my recipe for wraps that I make at home. Enjoy!

Mmmm...This was a flavorful, fast and filling wrap. I think next time I would just leave the cheese off., only because I couldn't taste it and why bother with the calories if you can't taste them. Thanks for sharing this recipe.
1

whole wheat sandwich wrap
1⁄2 cup tomatoes, slices

1

cup chopped lettuce
1⁄2 cup extra firm tofu

2

tablespoons ranch dressing or 2 tablespoons bleu cheese salad dressing
1⁄4 cup shredded cheddar cheese

2

tablespoons buffalo, sauce

2

tablespoons hot sauce (optional)
Cut the tofu into cubes and fry it until the outside is firm and crispy.
Add the buffalo sauce to the tofu and fry for about a minute more.
Lay out the wrap and spread the ranch or bleu cheese dressing in a circle in the middle.
Place the lettuce and tomato in the center of the wrap.
Put the buffalo tofu on top of the veggies.
Sprinkle the cheese on top of the hot tofu.
Add hot sauce if you like it spicy.
Wrap it up and enjoy!