Buffalo Style Chicken Wings
Cookaye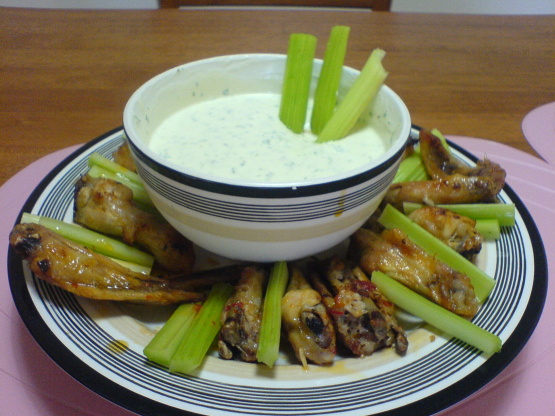 I have not made this recipe but it sounds good. It was in our local TV guide. Posted by request. In a way this is a dip but it sounds great with the wings.

This was the first time that I ever attempted buffalo wings at home. Wow! These turned out fantastic! I put the broiler on too high and almost turned my kitchen into a blazing inferno, but, you live and learn :) I had to modify the sauce a bit to fit my diet, so I omitted the lemon juice and used water instead of milk. I LOVED it! I used Frank's Red Hot as the hot sauce. Thanks for sharing!
Preheat broiler.
Combine: cheese, sour cream, mayo, milk, parsley, lemon juice& 1/4 tsp salt.
Cover and refrigerate.
Arrange chicken wings on a rack in a broiling pan and sprinkle with 1/4 tsp salt.
Broil 5" from heat for 10 minutes, turn wings and broil a further 10-15 minutes.
Meanwhile in a saucepan melt butter; combine with the hot sauce.
Pour sauce over broiled wings and toss.
Arrange on a platter with the celery sticks and cheese mixture.
Dip sticks and wings in the cheese.