Lvs2Cook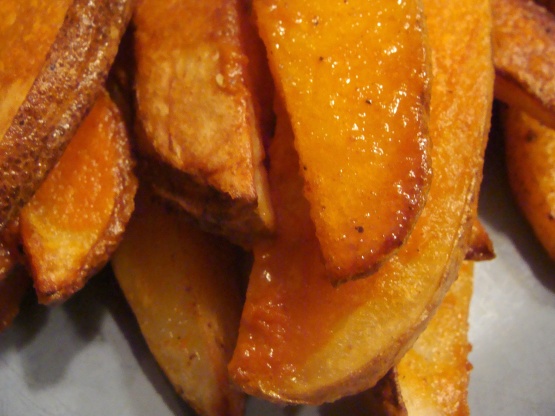 If you like spicy, you'll love these. I use 2 really huge baking potatoes cut into wedges with the same amounts of sauce ingredients. These can be used as a side dish or as an appetizer.
If you like the taste of hot wings, you will enjoy these. I made exactly as written (using Frank's hot sauce); however, I wanted my potato wedges to be somewhat crispy, so I upped the temp to 425 and baked for the last 15 minutes. The crispy results I wanted were achieved. I could not eat as many of these as I could hot wings; but I was craving hot wings and didn't have any wings to make my own so I tried these. I'm not sure that I will make this often because my kids and my husband do not like spicy foods; but it was a nice change of pace. Thanks.
Spray a baking sheet with cooking spray.
Arrange potato wedges on sheet and drizzle with olive oil Sprinkle with salt, pepper, and garlic powder.
Bake at 375º for 30 minutes until tender.
Remove pan from oven.
Combine the hot sauce and butter in a microwave safe bowl and microwave on HIGH until melted.
Stir to combine.
Drizzle mixture over potato wedges and return to oven for an additional 15 minutes.
Serve with salad dressing for dipping.