RogerOH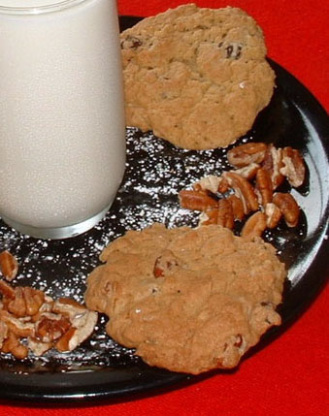 Found in the "American Profile". This recipe was sent in by Mrs. Morrison in California. Thanks for sharing!

These cookies are fantastic. I baked some for 12 minutes and some for 15. I personally like the browner ones better. The coconut and chocolate chips were in perfect balance. If I were to change it I would add a little more pecans. I use pecan peices and not chopped. That may have affected the outcome. Shared them with co-workers and had several request for the recipe. Thanks for sharing
Preheat oven to 350 degrees.
In a large mixing bowl, cream butter and shortening.
Add sugars, vanilla, and eggs. Mix well.
Stir in oats, flour, baking powder, and baking soda.
When well-blended, stir in coconut, pecans, Rice Krispies, and chocolate chips.
When batter is thoroughly mixed, measure 1/4 C for each cookie on a large ungreased baking sheet.
Bake 10 to 12 minutes, or until edges are golden. For a crisper cookie, bake 12 to 15 minutes.
Allow cookies to cool slightly on baking sheet before removing.