BecR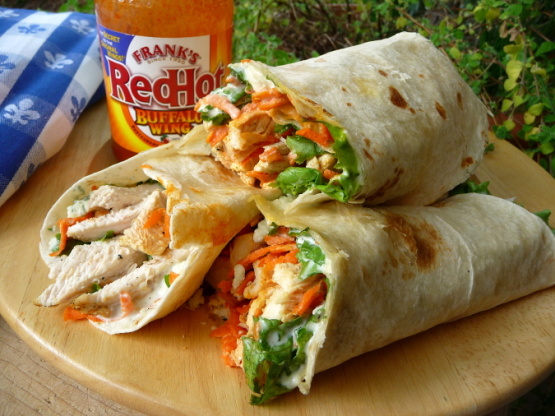 A little bit spicy -- you can always spice to your liking.

Absolutely Delicious! This is going in my "stuff we love" folder for sure. I halved the recipe and it came out just fine. I'll admit I used a bit more Tabasco on the chicken than it called for and I think it was a good call. I used romaine lettuce and used my mandolin to make small match stick cuts of the carrots. I didn't have chicken breasts so I used chicken tenders. Yummy!
Combine chicken, salt and tabasco. Cook chicken in oil 4-5 minutes. or until no longer pink and liquid is evaporated.
In small bowl combine together celery, blue cheese and salad dressing.
Divide cooked chicken among tortillas. Top each with blue cheese mixture, lettuce and carrot and wrap.