KPD123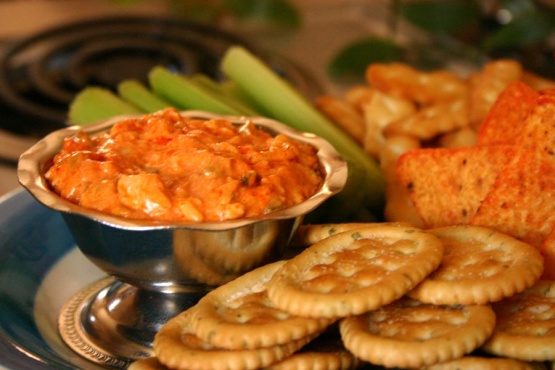 I first tried this buffalo chicken wing dip at my neighbor's picnic. A friend of theirs brought it and we munched on it all night til it was gone! I love this recipe for picnics, potlucks and tailgate parties. It's a much less messy way of enjoying chicken wings. My oldest son loves it. You can make it as spicy hot as you want...or leave it mild. It's best served warm, but you can also eat it cool.

Being near the home of the original Buffalo Chicken Wings from the Anchor Bar in Buffalo, NY - I, of course, made this using 1 bottle of Anchor Bar wing sauce instead of hot sauce. Tastes exactly like the Buffalo Wings we get there! A note: I skip the shredded cheese. I use shredded chicken breasts, 1 bottle Anchor Bar wing sauce, 2 pkg cream cheese, 1 bottle ranch salad dressing, and 1-1/2 cups very good quality crumbled bleu cheese. The Anchor Bar sauce and the bleu cheese crumbles are really what makes this dip. I put all the ingredients into a crockpot and bring the crockpot with me when bringing this to potluck events. Sometimes I will triple the amount of chicken and make "chicken wing salad" for sandwiches or wraps. Super yum!
680.38

g chicken breasts, cooked and shredded

340.19

g bottle hot sauce (use whole bottle or just half, if desired)

2

(453.59 g) package cream cheese, softened

453.59

g bottle bleu cheese salad dressing (or can use ranch or 8 oz blue cheese and ranch)

158.51

ml chopped celery

709.77

ml shredded cheddar cheese or 709.77 ml monterey jack and cheddar cheese blend
Preaheat oven top 350.
In a large bowl, mix shredded chicken, celery and cheese.
In a saucepan over med-low heat, combine cream cheese and salad dressing and stir until smooth. Stir in bottle of hot sauce ( don't have to use entire bottle if you want it milder). Pour heated mixture into bowl with chicken mixture. Stir to mix well.
Pour into a 13" x 9" baking pan. Bake uncovered for 40 minutes or until bubbly----make sure top doesn't get browned. Let stand for 10 minutes. Serve warm OR cold-----tastes best warm--- with celery or other veggies and crackers.