Buffalo Chicken Sandwiches
CarolAT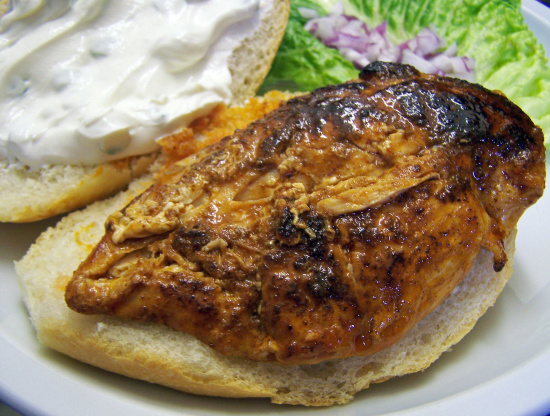 This is a Rachel Ray recipe that I tried a few years ago and fell in love with.

Yummy!!!! I printed this off in January and am just now making this, DELISCH ! I'm doing the "DUGAN" diet so I need lo carb and lo fat but you can adjust this. Dredg the chicken in the rub then grill or cook, no oil, in a non-stick skillet. Add Fat Free Feta and Hot Sauce. Guess you could use Fat Free Sour Cream and and Fat Free Feta to the sour cream sauce. It would be great on a bed of lettuce/spinach with salsa
Heat a large nonstick skillet over medium high heat.
Season chicken with salt, pepper, paprika and chili powder.
Drizzle breast with a little extra virgin olive oil to coat.
Pan grill chicken breasts 5 minutes on each side.
Heat a metal or oven safe glass bowl over low heat and melt butter in the bowl.
Add hot sauce to the butter and combine.
When the chicken breasts are done, remove from pan and add to the bowl and coat evenly with hot sauce mixture.
Place chicken breasts on bun bottoms and top with crisp lettuce.
Combine sour cream, scallions and blue cheese and slather bun tops with blue cheese sour cream.