Nimz1466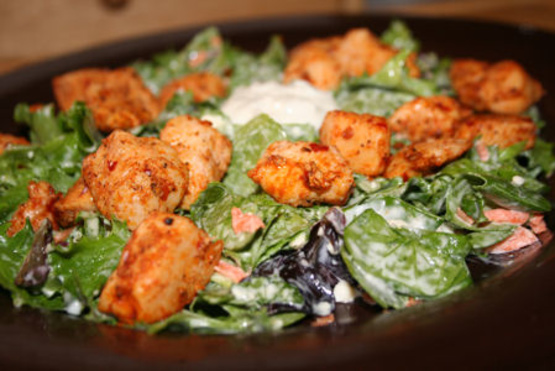 This is another Rachael Ray recipe. A great way to get the taste of buffalo chicken without the grease and fat, and a little healthy even!

It was good but I agree with the other reviewers that it was too oily. I followed the recipe exactly and used 2 Tbsp butter with the oil. Next time I will try it with just 1 Tbsp. I spun my lettuce in the salad spinner so my dressing wouldn't get dilluted. I mixed homemade buttermilk ranch dressing with pre-crumbled blue cheese. The dressing was delicious!
Preheat a skillet over medium-high heat.
Combine lettuce, carrots and celery in a salad bowl. Combine ranch dressing and blue cheese crumbles in a small bowl.
Add oil and butter to hot pan with the chicken. Season with salt and pepper and sear for 2 or 3 minutes, then add hot sauce. Reduce heat a little and cook 5 minutes more.
Toss salad with dressing and season with salt and pepper. Top salad with Buffalo chicken and serve.