lazyme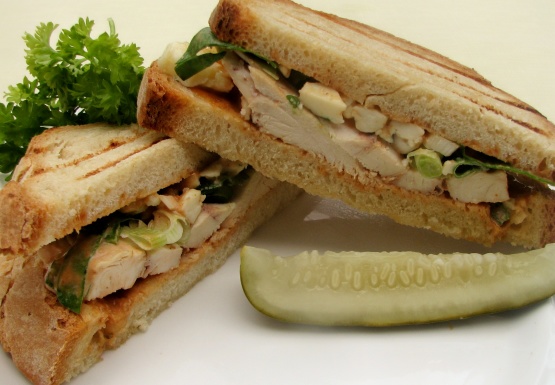 Gooey goodness. The perfect combination of buffalo chicken flavors on a sandwich.

Made this last night, though with a few minor changes. I didn't mix the mayo and hot sauce together, but rather, I spread a thin layer of plain mayo on the inside of each Hogy roll, then filled with the green onions and spinach, blue cheese, and then the chunks of chicken, which I made from diced chicken breast and sauteed in my skillet, then drizzled a rather generous amount of sauce over it all, and cooked them on my panini press. The blue cheese is a bit strong, but then, so is the wing sauce, so for me, it was all a great balance. Thanks for sharing.
6

ounces cooked chicken (I use buffalo deli chicken)

2

teaspoons diced green onions
1⁄4 cup blue cheese
1⁄2 cup Baby Spinach

2

teaspoons mayonnaise

2 -3

teaspoons buffalo wing sauce (bottle variety)

4

slices bread, your choice (I use either flat bread or Italian)
Combine mayo and wing sauce.
Spread top and bottom of inside of sandwich with this mayo mixture.
Assemble sandwich layering chicken, onion, spinach, and cheese.
Grill on panini press, George Forman, or skillet until heated through and cheese has melted.
Serve with plenty of napkins.