berry271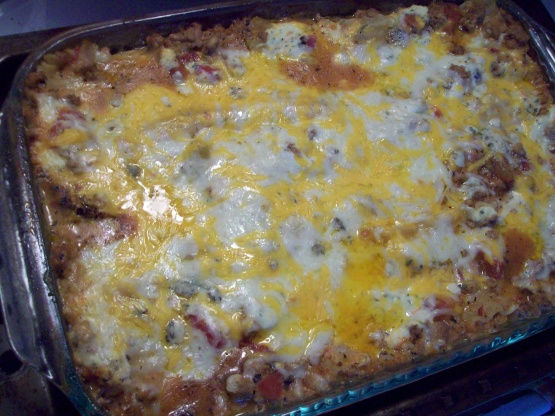 Grand Prize Winner from Taste of Home's Ultimate Potluck Recipe Contest (by Melissa Millwood). Made this for dinner last night and was skeptical, but it was delicious. A little spicy for kids (used Frank's Red Hot) but very well received by the adults. Didn't have any ground chicken so used shredded leftover turkey breast and would do so again! Also used 28 ounce can of ground tomatoes instead of 14 ounce diced and would do so again! Might yet experiment with cream cheese. Had neither fresh parsley nor Italian seasoning on hand and enjoyed it without.

This was good and had a genuine "buffalo wing" flavor to it. The sauce was not too hot, thankfully, but I guess that would depend on the type of buffalo sauce you buy. If we make again I think I would omit the blue cheese. It wasn't overwhelming, but a little stronger than I like. Maybe instead of blue cheese I would mix some Ranch Dressing Mix in the ricotta and then do a layer of Ranch dressing too. I think I might enjoy that more. Also my husband said he might prefer diced chicken instead of the ground, to really give it more chicken flavor. I found this in the February/March issue of Taste of Home.
Heat the oil in a large dutch oven and saute the garlic, onion, celery and carrot until softened.
Stir in the shredded turkey breast (or set the veggies aside and cook the ground chicken then return the veggies).
Add in the tomatoes, wing sauce, water, Italian seasoning, salt and pepper. Bring to a boil then cover and simmer for an hour.
Meanwhile, mix together the ricotta, egg, parsley and half of the crumbled blue cheese.
Preheat oven to 375 degrees.
Spread 1.5 cups of sauce in the bottom of a deep 13x9. Layer with noodles, sauce, ricotta mixture, mozzarella, cheddar and blue cheese. Repeat layers twice.
Bake for 30-40 minutes or until bubbly and cheese has browned. let stand for 10 minutes before serving.