Buffalo Chicken Flatbread Pizzas
NELady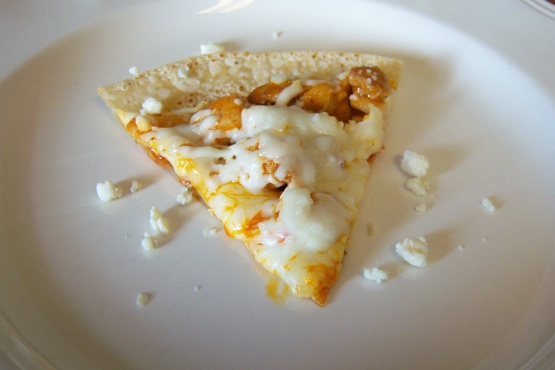 My oldest son loves anything with buffalo chicken and this recipe was no disappointment. Recipe is from Rachael Ray.

Top Review by NELady
These really satisfy when you're in a "hot wing" mood! I omitted the celery (I thought it was in the refrigerator, but I couldn't find it), but followed the rest of the recipe exactly. Mine turned out salty - I don't know if it was because I used salted butter or if I over-salted my chicken before I fried it in the olive oil - but next time I would not salt the chicken first. I used x-large flatbread rounds for larger pizza slices. This was fun & easy - thanks for posting this recipe! Made for Photo Tag!
Preheat oven to 450 degrees F.
Place a large skillet over medium-high heat with 2 T olive oil.
Season the chicken pieces with salt and ground black pepper, and add them to the preheated skillet.
Saute until cooked through and golden brown, 4-5 minutes.
Reduce the heat to medium and add the butter to the skillet to melt.
Add the hot sauce and cook, stirring occasionlly, until the sauce has thickened and coats the chicken, 2-3 minutes (be careful not to take a deep breath over the pan or the hot sauce fumes could burn your sinuses!).
When the chicken is ready, place the flatbread rounds on a baking sheet and divide the chicken equally between all four rounds.
Scatter the celery over the chicken and top each round with some shredded cheese and blue cheese crumbles.
Bake until the bread is crisped and the cheese has melted, about 5 minutes.