Lainey39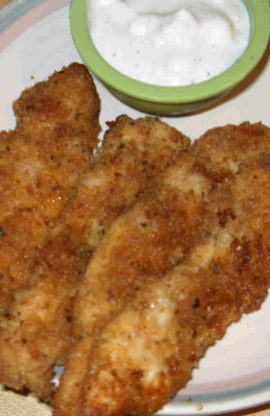 Baked instead of fried with a creamy bleu cheese dipping sauce.

This was really great. The timing for the oven was perfect, the chicken came out perfectly tender. We had a wide range of comments about this dish. DH hates blue cheese, so he didn't eat the dip at all. My roommate will eat anything and complained that there weren't any big chunks of blue cheese in it (I had blended it too much). I like blue cheese and didn't have any sherry, so I left it out, which made the dip extra thick - just the way I like it! We liked the chicken, but were confused as to why it is called "Buffalo" since there isn't any hot sauce in it - but that made it easy to give to my 5yo. I just made everyone try it without the sauce, and then put a bottle on the table for people to add some. It was delicious either way. Thank you very much for a great recipe!
Preheat oven to 450 degrees.
Line a 13x9x2 baking pan with aluminum foil and oil lightly.
In a shallow dish, whisk the egg whites with the water for about 1 minute, or just until frothy.
In another shallow dish, mix the bread crumbs with the ground red pepper.
Dip the chicken fingers into the egg white mixture and roll in the seasoned bread crumbs.
Place in baking pan and drizzle with the 2 tbsp of oil.
Bake uncovered 5 minutes on each side or until crispy and golden brown.
While the chicken is baking, prepare the dipping sauce.
In a medium sized bowl, blend all dipping sauce ingredients together.
Spoon into small individual bowls if desired.