Buffalo Chicken Filled Tortilla Cups
Nimz1466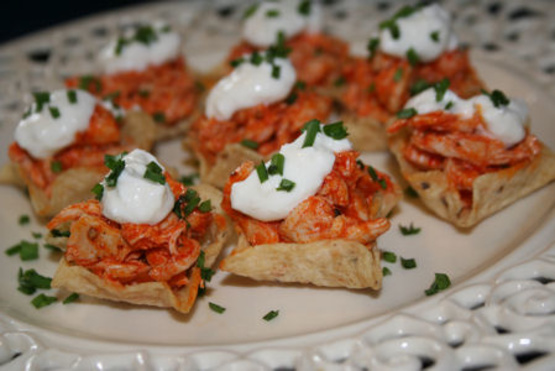 These are a fun little appetizer or snack from Rachael Ray

Such an easy little appetiser...and so delicious too!
I used Louisiana Hot Sauce ( all I had)...and although it was on the fiery side, we enjoyed it..I did, however, have to warn others...and those I didn't get to in time....well, it was fun to see their reactions!!
Like other reviewers...I too found it a little salty...possibly due to the doritos ( I used the 'Burn' variety, my kids love them!), and the fact that the blue cheese I used was full on, and quite salty too....I definitely wouldn't add any extra salt to this!
Nevertheless...these went down well at the party that I took them to..even being complimented by an American couple there...who I noticed kept going back for more!!
Thanks Shelby Jo...I'll be doing this again!
Made for PRMR.
1⁄2 cup hot sauce, such as Frank's Red Hot

1

tablespoon butter

2

cups rotisserie-cooked chicken, shredded apart

2

tablespoons sour cream

2

tablespoons blue cheese
salt & freshly ground black pepper

2

tablespoons chives, thinly sliced

12

tortilla chips, scoops variety
Place a small sauce pot over low heat, add hot sauce. Whisk in the butter until melted (the sauce will have an orange color).
In a medium-size bowl, mix the pulled chicken with the hot sauce mixture and set aside. In a small mixing bowl, mix the sour cream and blue cheese and season with salt and pepper.
To assemble the cups, place a spoonful of the buffalo chicken mixture in a tortilla cup and put a little dollop of the blue cheese sour cream on top. Sprinkle with chives and serve.