ChefLee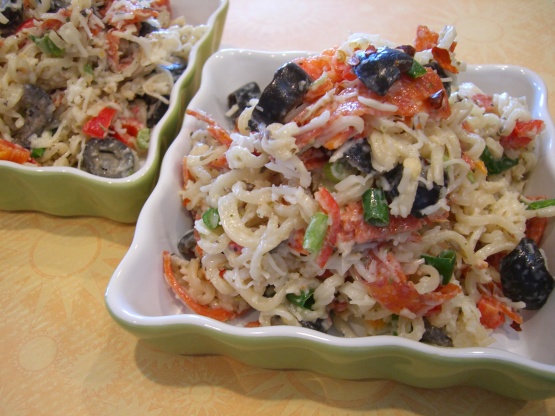 Ramen is a college student's best friend. But what to do with it when you're tired of soup? Look to another best friend- pizza! Here is a pasta salad with the same ingredients you'd find on your favorite pizza- pepperoni, olives, bell peppers, and of course, cheese! This is best served shortly after it's made- but who wants to wait anyway!
In a medium bowl, combine salad dressing mix and water. Let stand for 5 minutes.
Add mayonaise, vinegar, and oregano, and whisk to combine.
Discard flavor packet from ramen noodles. Cook in boiling water for two minutes, or until just tender.
Drain noodles well, and toss with dressing.
Using a clean pair of kitchen shears, cut noodles into shorter pieces in the bowl.
Add pepperoni, olives, cheeses, bell pepper, onion, and pepper flakes.
Toss well to coat all ingredients with dressing.
Taste, and add salt, pepper, or more oregano as needed.
Transfer to 2 serving bowls and serve.