Budget Macaroni and Cheese
Prep 10 mins
Cook 15 mins
TOH Annual 1996, as requested
Directions
Cook the macaroni according to the package directions.
Drain and set aside, keeping warm.
In a saucepan over medium low heat, melt butter.
Add flour, salt and pepper; stir to make a smooth paste.
Gradually add milk, stirring constantly.
Heat and stir until thickened.
Remove from heat; stir in cheese until melted.
pour over macaroni and mix well.
Makes 4 servings.
Most Helpful
I needed to make a small serving of mac n cheese for my dd who is sick today and was out of the box mix. I made this recipe using sharp cheddar cheese and the sauce turned out nice, but needed some other added flavor. I tried a little onion powder after the fact and it seemed tastier. I don't know - just needs something. My dd wasn't crazy aobut it either. I found that 1 ounce of pasta was too little for the amount of sauce. I ended up using 4 ounces.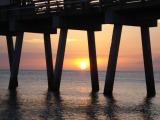 This was quite tasty. Nice and creamy, easy to prepare. I wasn't sure of the amount of macaroni to use (the recipe says 1 ounce, which seems wrong), so I used 3 cups of dried pasta. I think next time I will use an extra cup of shredded cheese, because we love the stuff! Thanks for sharing!