Buddha's Soft Pretzels (Or Pretzel Rolls)
Prep 10 mins
Cook 15 mins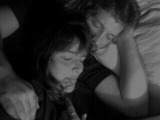 Soft, street-vendor type pretzels. I'de been experimenting with various recipes for pretzels, and finally created this one which everyone agrees is perfect, especially when accompanied with our simple and easy to make 2bleu's Sweet Mustard Sauce for Pretzels and More! :) You can also make pretzel rolls which are wonderful for burgers.
Directions
Combine water, sugar, and the 2 tsp Kosher salt in a medium bowl. Sprinkle the yeast on top. Let it sit for 3 minutes.
Add the flour and butter and mix with dough hooks (stand mixer) on medium speed and knead until the dough is smooth and pulls away from the sides. Continue kneading for about 4 minutes.
Remove dough from bowl, and place into another bowl that has been sprayed with non-stick cooking spray. Cover with a damp (wrung out tight) kitchen towel and sit on top of fridge for 1 hour.
Preheat oven to 450°F Bring the gallon of water and the baking soda to a boil in wide-mouthed pan (roaster type works best).
Meanwhile, turn dough out onto a lightly oiled work surface and divide into 8 sections. Roll each section out to 2' ropes, shape into pretzel shape.
Place the pretzels into the boiling water. 2 or 3 at a time for about 10-15 seconds each. Remove using a large spatula onto a baking sheet that has been sprayed with non-stick cooking spray.
Brush each pretzel with the egg yolk mixture and sprinkle with Kosher salt (or sea salt or pretzel salt) and bake 15 minutes.
ROLLS: After kneading, divide dough into 12 equal pieces. shape into rolls. Place onto baking sheet lined with parchment, sprayed with oil. Cover and let rise for 1 hour.
Dip into water solution, then baste with egg wash (as directed above for pretzels). Then score decorately the tops. Bake as directed for pretzels.
Most Helpful
Great pretzels! Loved the flavor and dough was easy to work with but I need practice folding the pretzels. Served with beer cheese soup and was a great compliment to the soup.

Earlier this year I hosted an Oktoberfest party. I looked through several recipes before deciding to use this one. It isn't too difficult to make at all and the pretzels come out quite nicely. Since I was making them for a large party, I made pretzel bites instead of the large pretzels. I just rolled out the dough, cut it into 1" pieces, and shortened the baking time slightly. They came out great and were a big hit at Oktoberfest.
Loved these pretzels and so did the family! I used Rapid Rise yeast and let the dough rise for about 15 minutes. I separated the dough into about 32 pieces, rolled out into "snakes" and wrapped them around bamboo skewers to make twists. My goal was to create a birthday snack for my son to take to school. These are "pretzel snakes." I boiled them on the skewers. I removed the skewers and baked in the oven. I decorated with some melted chocolate to make eyes and a tongue.