Prep 15 mins
Cook 15 mins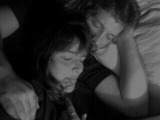 Yummy huge moist cookies that you eat for good luck. These are so named not because they will puff up like a 'belly' shape when baked, but because these are so good, if you don't eat them in moderation, YOU will! Some folks have even been known to shout.... "I want a Buddha Belly!" ;)
Directions
Preheat the oven to 350°F Line cookie sheets with parchment paper or use non-stick cooking spray. Sift flour, baking powder and salt in a bowl and set aside.
In another bowl, combine the instant coffee and boiling water to make a paste. Blend in the vanilla extract. Set aside.
Melt the chopped Unsweetened Chocolate, chopped Bittersweet Chocolate and the butter in a saucepan over medium low heat or in the microwave for 15 to 20 second intervals. Gently stir to blend.
In a stand mixer fitted with the whisk attachment, beat together the eggs, sugar and coffee paste mixture on high speed until light in texture and thick, 6 to 8 minute.
Add the chocolate mixture with the machine running on medium speed. On low speed mix in the dry ingredients until just blended. Mix in the walnuts and chocolate chips to blend. Scrape down the bowl as needed during mixing to blend evenly.
Using a 1/4 cup-measuring scoop fill it with dough, level, and drop the dough on to a prepared cookie sheet leaving 3 to 4 inches between the cookies. Bake (in batches if neccessary) until the cookies are cracked on top but still slightly moist, about 14 minutes.
Allow the cookies to cool slightly on the cookie sheet before transferring them to wire racks to cool completely.
Reviews
Most Helpful
Chocolatey, with a slight coffee taste, and oh so rich! Good golly, I must keep myself from eating more than one of these, well, maybe I'll have one tomorrow too and freeze the rest for treats! I know my kids will love these too. Thanks you two! Good stuff!

My, oh, my! These are delish! I had a hard time not eating these. I changed the nuts for some white chocolate chips and used Cake Flour Substitute for the flour. I will have to give these away, so I don't get a Buddha belly from eating them. A chocoholic dream cookie! Thanks, 2Bleu!!
Thank you so much for sharing this treat, the flavor is incredible. Our cookies turned out to be large and thin with a crackel topping and a moist and chewy center full of chocolate chips and nuts. We enjoyed them very much. Update: the kids on are street were yelling today, oh boy are those the cookies you made that we like...Oh Yeah! Thanks for the great cookies and for making me a star.