CJAY8248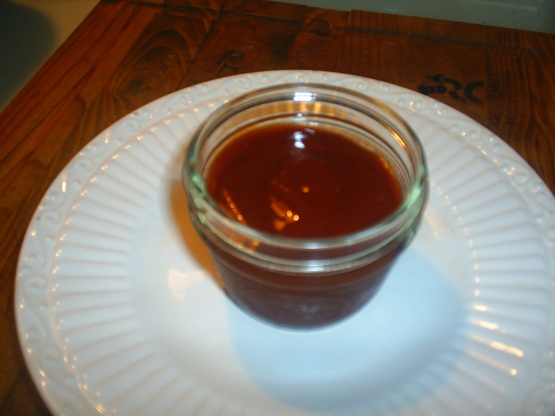 This is a sweet BBQ sauce I have been making for 10 years or more. It is always a favorite and vanishes quickly. It is a good solid basic BBQ sauce. The Tabasco sauce gives it a nice little bite.

We had this as a sauce over a pulled pork wraps & really enjoyed it! Still have enough left for a couple of burgers, too! Love these sweet sauces & the little kick it has is ever so nice! Just the kind of sauce I enjoy making & sharing with others! Definitely a keeper recipe! Thanks for posting! [Made & reviewed for one of my adoptees in this fall's round of Pick A Chef]
Combine ketchup, apple cider vinegar, molasses, honey, salt, garlic powder, onion powder, and hot sauce in a sauce pan; bring to a boil.
Reduce to a simmer and cook until desired consistency is reached (30 to 45 minutes), stirring occasionally.
Remove from heat and cool.
Add to your meat of choice near the end of cooking; if you add too early it will burn because it is sweet.