Buck's Fizz - Champagne and Orange Cocktail
Calee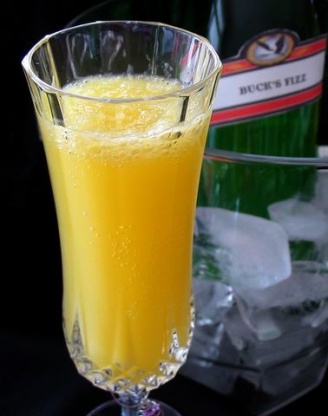 A Traditional celebration drink in our house, served on Christmas Morning, Birthdays, Anniversaries and almost all other "excuses" for a "knees up"!! We do use Champagne, but if this seems just too sybaritic & over indulgent, you can use any good quality "Fizz". Freshly squeezed orange juice is de rigeur, but again, you can get great "fresh-tasting" orange juices in bottles & cartons too.......but please, NO ice & unsweetened is best!

I don't think there are many things more indulgent then waking up late and enjoying a mimosa with a late breakfast! I like to pour a little bit of grenadine syrup in the glass and then slowly pour in the mimosa; it makes a very pretty drink.
1

(750 ml) bottle champagne
1⁄2 liter squeezed fresh orange juice
Chill your Champagne & Orange Juice.
Select tall and elegant shaped wine glasses!
Pour about one third of orange juice into the glass first and then top up with champagne.
Serve as a toast or as a celebration cocktail.
P.S. The quantities have been known to change to almost NO orange juice to nearly ALL champagne at very "Festive" Frolics! Sante!