Buck's Beef Kabob Marinade
lazyme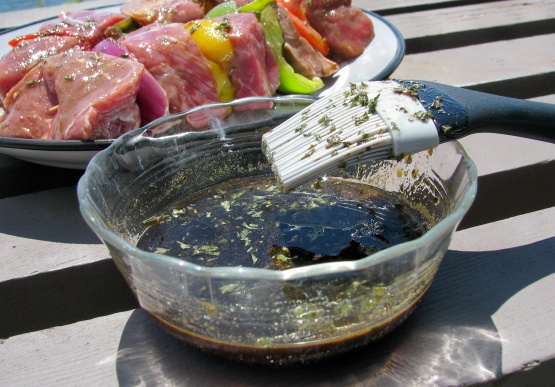 This is the marinade my father "Buck" used for years to make beef kabobs. I think it's from some barbecue book from the 50's. It was our family favorite for birthday dinners and family gatherings. All 5 of us kids now use this recipe with our own families. The longer you marinade the beef in it (in the fridge of course), the stronger the flavor will be. I like it mild, so I make mine in the morning and marinade the beef until dinner time. Some family members do marinade for 24 hours for a stronger flavor. Be sure to use the light soy sauce instead of regular to prevent this from being too salty. Note: You may need a package of long bamboo skewers for the recipe.

5 Stars because my kids(11 and under) liked it! Kind of tart, non sweet, but lots of flavor. I chunked up roast beef for kabobs. Could have marinated longer (did 4 hours) but eventhen made the meat tender, and didn't over cook. The recipe didnt specify, and I didnt have red wine vinegar, but used white. Red would probably give it a bigger punch! Will try it that way next time. Also, didnt have light soy so used 1/2 cup regular with 1/4 cup water. and lightly sprinkled the meat with salt.
Place some bamboo skewers in water one hour before to soak.
Combine marinade ingredients in a large jar and shake.
Place cubed meat in a large bowl.
Pour marinade over meat and cover with plastic wrap. Place in refrigerator for 6 to 8 hours.
To prepare for grilling: Light the grill. Get out one jelly-roll pan (cookie sheet). Cut vegetables into chunk-size pieces and place aside.
Remove meat from the refrigerator. Begin to alternate meat chunks and vegetables on the soaked bamboo skewers and place on the jelly roll pan.
When all the meat and veggies are skewered, place on the hot grill and cook to the donness you prefer.