Buckingham Palace Cream of Pea Soup
Rita1652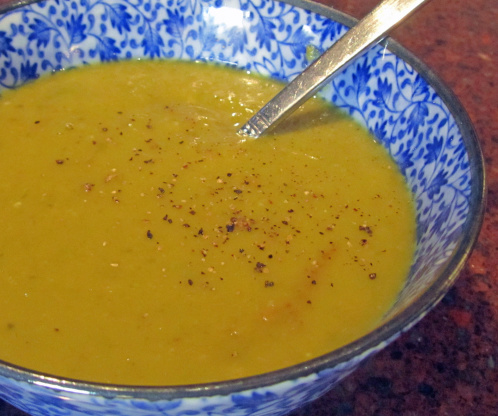 From "Dinner at Buckingham Palace" by Charles Oliver, who worked for the British Royal Family. "If fresh peas are available, cook one cup in water until soft and rub them through a sieve into the soup. Should they be very young and small, include the pods."

Rich pea soup was brilliant. I used a pretty lean salt pork and rendered most the fat from it then added the veggies ( I did use the green and white of the leek) cooking till tender at which point I just added the dry split peas water stock and herbs.While the sieve is a good way to puree an immersion blender works even better. be sure to remove the bay leaf first. Seasoned with lots of black pepper. I normally wouldn't add sugar, butter or cream but was curious on the taste. It came out rich, creamy and comforting good. Thanks Jen.
Cheerio
Made for ZWT #8 Lively Lemon Lovelies.
Cover two cups of split peas with water and allow to soak for a little over one hour.
Pour off the water and put the peas into a large saucepan with one quart fresh water. Add salt. Bring to a boil and skim the water, the cover the pan and simmer steadily.
Melt one tablespoon of butter in a soup kettle and drop in 1/2 cup of finely diced salt pork. Cook until the pork begins to brown. Add onion and saute until soft but not brown. Now add the carrot, tops of the leeks and spinach. Drop in a small piece of bay leaf and a pinch of thyme.
Cook for a few minutes more and then pour in the partly cooked peas with their water. Continue to cook for about one hour, or until the peas are very soft. Rub the soup through a fine sieve and add one cup of stock, then bring back to a boil.
Season to taste with salt and add sugar, butter and heavy cream.