Evie3234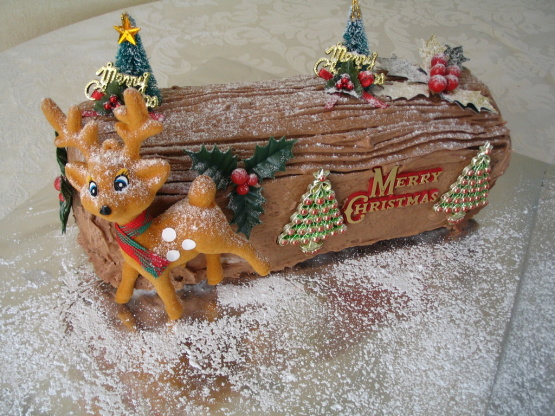 WAY back in the 80's, I attended chef school and one of the recipes we made was for a Buche Noel. It was very labor intense, but very tasty and very pleasing to the eye...If you have the time it is well worth it

If I could rate this a 20 I would. Excellent recipe!! My first time making a jelly roll type cake and my first attempt at buche de noel. WOW! The gelatin in the whipped cream makes it firm up nicely once refridgerated. After rolling the cake up and filling it with the cream mixture I left it in the fridge overnight and then frosted it when I got home. The frosting is magnificent! So creamy and rich and not too sweet. Thanks so much for sharing. I will be making this a Christmas tradition!
MAKING THE CAKE: Preheat oven to 375°F.
Butter bottom of 15x10 inch jelly-roll pan; line with waxed or parchment paper.
Next butter paper and slides of pan; dust with flour.
Sift together flour, cocoa, baking powder and salt; set aside.
Beat eggs until thick and lemon-colored.
Gradually add sugar, beating well after each addition.
Beat until thick and fluffy.
Fold in water and vanilla, then flour mixture, stir until smooth.
Spread mixture evenly in pan and bake 12 to 15 minutes.
Meanwhile, sprinkle a kitchen towel with cake flour.
Immediately after removing cake from oven, loosen edges and turn it out onto the towel.
Peel off waxed paper and trim the edges.
Staring with the narrow end, roll the cake up in the towel.
Let it stand for 20 minutes on a cake rack.
PREPARING THE FILLING: While cake is standing, sprinkle gelatin over water to soften; place mixture over low heat until dissolved, stirring constantly.
Cool to room temperature.
Beat cream until stiff peaks form.
Fold in gelatin mixture, then almond extract and confectioners' sugar.
Cover and chill 5 to 10 minutes.
Unroll the cake and spread with whipped cream filling; roll up again.
Cover and chill at least one hour
PREPARING THE FROSTING: Melt chocolate over low heat with the instant coffee; cool slightly.
Cream butter; gradually add 1/2 cup confectioners' sugar and beat until light and fluffy.
Blend in chocolate mixture, salt and vanilla.
Beat egg whites until soft peaks form; gradually beat in 1/4 cup confectioners' sugar until stiff peaks form.
Fold chocolate mixture into egg whites, gently but thoroughly.
Frost cake roll.
Draw a fork down the top of cake for a"bark" effect.
Decorate with whole almonds and candied cherries.
Chill thoroughly before serving.
If cake is frozen, thaw to serve, without allowing cake to become warm.
If desired, garnish cake platter with candy spearmint leaves and maraschino cherries.