3 Reviews
A lovely, flavorful pasta sauce that is super easy to put together. I used diced pancetta instead of the thinly-sliced bacon. I added the 2 cups of tomato sauce, but was afraid there was not enough, so I added a 14.5-oz. can of fire-roasted tomatoes. The end result was perfect, and I would definitely do the same again. The thickness of the bucatini perfectly held up to the sauce. Thanks for sharing!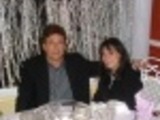 Great dish that's authentic and delicious. Thank you.

a great simple and delicious pasta dish. Took no time to put together and the spice was just right!

Bucatini All'amatriciana