Buca Di Beppo Penne Cardinale
Debi9400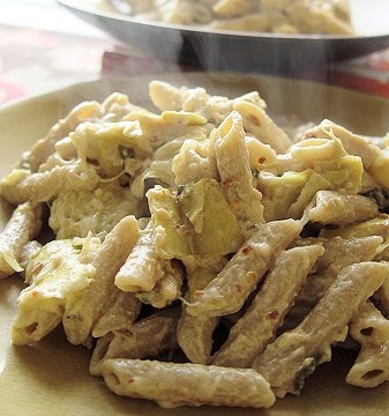 I found this recipe on another website and made it for dinner. It was absolutely fabulous! Make sure you use a dry white wine, and the red pepper flakes should be adjusted down if you don't like things spicy! My husband shared leftovers with co-workers the next day and they gave it rave reviews as well!

This is a very tasty recipe! I made it spiced as written and the whole family loved it and rated it 4's and 5's. We like a bit of a bite so if your family does not - reduce the amount of red peppers. It wasn't a lot of heat but you can taste the heat. I did have one minor issue which was not knowing if the ounces listed meant measurement by liquid measure or weight. So I just went with what seemed to be reasonable though I think 3 Tbsp rather than 3 oz. would be enough oil. **Liquid measure - oil, wine, cream **By cup (liquid?) - green onions, chopped garlic **By weight - chicken, artichokes, butter, romano cheese (FIY - the oil, garlic and cheese all came out the same amount whether measured by size or weight.
Cut the root from the green onions and cut the green onions into 1/4 inch rings and portions to 5 ounces.
Cut the raw chicken tenders in half lengthwise, portion to 16 ounces.
Portion the drained quartered artichoke hearts to 10 ounces.
In a large saute pan, heat the olive oil, add the green onions and chopped garlic.
Saute for 3-4 minutes, until the garlic and onions are slightly browned.
Add the chicken tenders, salt and the crushed red pepper. Cook for an additional 3-4 minutes, until the chicken is cooked through.
Deglaze the pan with white wine.
Add the quartered artichokes and cream. Reduce the sauce until it starts to thicken. Remove the pan from the heat and incorporate the room temperature butter.
Toss with the cooked penne and then the romano cheese.