Bubble Up Pizza (My Children love this Recipe)
Karen..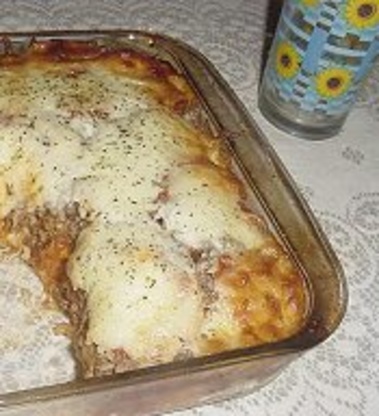 This is a quick and easy meal, that my whole family loves! If you like Pizza you will love this! This is great for an evening meal served with a salad or can even be used as an appetizer!

I made a variation of this and my family loved it. Instead of sausage, I used grown beef and we omitted the mushrooms completely. I used a 4 ounce bag of sliced pepperoni and this worked out well. I fried my onions and garlic in with the ground beef. I was extremely suprised at how big this actually gets! We are a family of 6 and I thought no way would it be enough, cause we always have to order 2 pizzas. Well, this gets as high as the baking dish, so there is a lot of volume here. It is very tasty and appeals to all ages. Thanks for a great idea that is ecomonical and quick for a large family!
Preheat oven to 375 degrees.
In a 9 x 13" baking dish, line the bottom with Pepperoni, In a mixing bowl quarter biscuits, add the rest of the ingredients, mix well pour on top of the pepperoni, sprinkle some extra cheese on top.
Bake 30- 35 minutes or until sides are golden brown.