Marlene.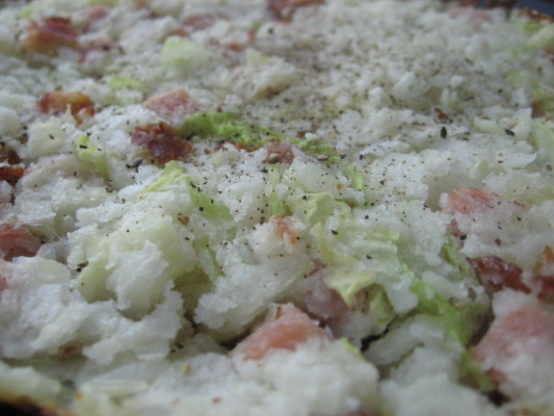 Goes nicely with a pint of oatmeal stout or nut brown ale! :)

Top Review by MMers
SueL, I gave this recipe a 5* cause I'm not a big fan of hash-type recipes, but my husband is so we tried it...and I went back for seconds! We actually browned both sides by sliding the 'pancake' onto a large plate after it was brown and then flipping it back into the frying pan to brown the other side. We cooked it slowly, about 20 minutes per side to get a nice brown crust on the outside without burning it. Next time we make it, we'll add more bacon and cabbage. Thanks, Sue! M&Mers
Mix together potatoes, cabbage, onion, garlic, chives, ham, and bacon.
Season to taste with salt and pepper.
Heat bacon drippings in skillet; add potato mixture and form a patty.
Brown over medium heat on one side.
Invert onto plate and serve.