Bubba's Quarter Pound Burgers
Diana 2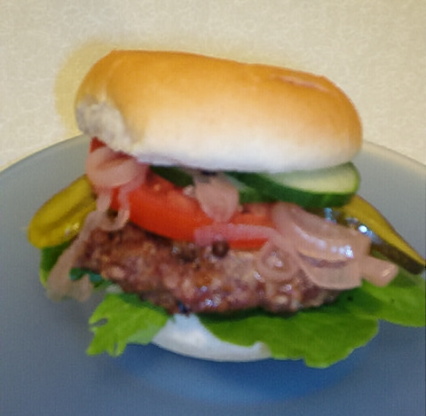 It was such a beautiful day today, DH suggested we fire up the BBQ. I grabbed some ground beef, and started throwing stuff in. These were terrific (If I do say so myself). Flavourful and juicy. Just the way a burger is suppose to be. I'm really, really glad I made note of what I did. I don't as a rule. :) We don't put a lot of condiments on our burgers. I added a few tomato slices and a spoon full of Pickled Red Onions. What a terrific combination. Give it a try.

this really is a wonderful burger recipe. the added oatmeal gives it a real good texture. i did use a few more condiments. they cook real nicely from frozen. thanks for posting this one.
Throw everything in a large bowl, and mix together. I like to wear disposable vinyl gloves so that I can really get in there and mush it up without having to worry about cleaning my hands.
Using the 1/3 cup measure, scoop out the mixture and form into patties.
At this point, you can either wrap for the freezer, or refrigerate until ready to grill. Chilled burgers are easier to manage on the grill, and won't fall apart.
Preheat the BBQ to the Medium setting. Grill burger for 5 minutes on each side.
*NOTE* This mixture will yield 7 burgers. Even though there are only the two of us, I cook them all at the same time. What isn't eaten is wrapped and put in the fridge for the next day. The best way to reheat, is in the microwave. Cover in plastic wrap and heat for 4 minutes at 50% power. They get nice and hot without drying up or turning to rubber. Tastes like it came right off the BBQ.
I hope you enjoy these as much as we did.