Bubba Don't Eat This Onion Soup With Melted Mozzarella
Susie D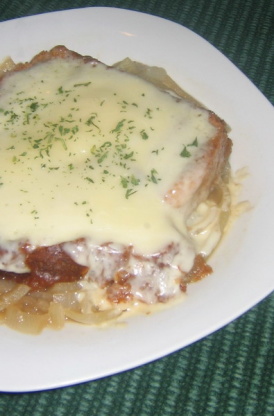 Onion soup is probably my very favourite. I'm always trying new recipes to find the best that's out there. So far, I haven't found any that I like quite as much as my own. I'm hoping you will like it too. If you don't have leeks, just throw in an extra onion. Afterall....this is ONION soup! By the way....Bubba is one of my husbands many nicknames. He doesn't like onions......but we all know he gets them anyway. He just doesn't realize it. :)

It's a good soup, I used extra onions and some green onions instead of the leeks. I followed the receipe and used a whole wheat bun though. The bun soaked up all the soup and was really mushy, kinda gross. Next time, I think I'll used a harder bread like french or sour dough so it doesnt soak up the entire soup.
In a large saucepan, melt butter.
Chop one onion until fine. I generally use my mini-chopper. Cut the remaining onions in half, then slice.
Add garlic, leeks and all the onions and the salt to the melted butter. Saute until soft. This should take approximately 15 minutes.
Cover and reduce the heat. Simmer for 15 minutes.
Add beef broth, water, pepper and tabasco sauce. Bring just to the boil.
Cover, reduce heat and simmer for 30 minutes.
At this point, you may continue with the recipe, or cool and store in the fridge. Great for single servings!
To serve:.
Preheat oven or toaster oven (good for single servings) to the broil setting.
Ladle soup into an oven proof bowl. Top with a slice of the toasted bun.
Spoon on a few of the onions and top with a 1/4 cup shredded cheese.
Broil until the cheese has melted and is starting to brown.
Enjoy!