Brussels Sprouts With Warm Balsamic Vinaigrette
JustJanS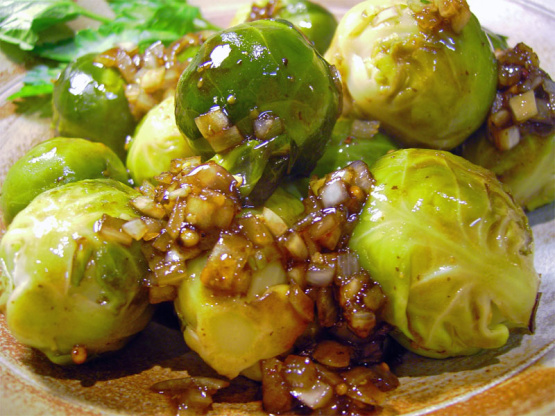 Petite Brussels sprouts go nicely with this vinaigrette. Quick to make, easily doubled or cut in half.

WOW!!!!! This is terrific !!!!! I'll be making these often as I really like sprouts.I doubled the vinegar because I really like it too.Thanx for such a yummy recipe
Boil or steam Brussels sprouts until just crisp tender.
While sprouts are cooking, melt butter in skillet or saucepan.
Add onion and sauté over medium low heat until soft and golden, about 5 minutes.
Add chicken broth, balsamic vinegar, mustard, salt and sugar.
Bring to a boil, lower heat, and let simmer for 1 minute.
Add cooked Brussels sprouts, stir to coat, and let simmer for 2 to 3 minutes.
Serve warm.