Brussels Sprouts with Pine Nuts
loof751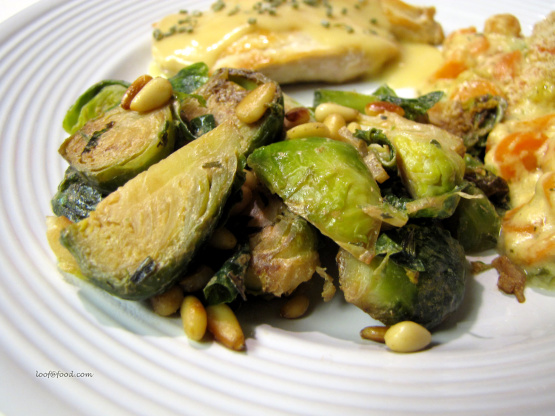 Made a similar version of this for Thanksgiving from Jeanne Kelley's cookbook Blue Eggs & Yellow Tomatoes and loved it (although I modified by using walnuts & dried marjoram). The flavors were amazing and while the cream does not make an actual sauce, it coats the sprouts with a creamy goodness that is definitely a part of what makes this dish great. Made a second time & chose to roast the Sprouts in the oven first at 425 until golden and then proceed with the recipe- which also worked well . A keeper- thanks for posting!
In a large skillet, melt 1 tablespoon butter.
Add nuts and stir for 3 minutes or until golden brown.
Place nuts in a bowl and set aside.
Melt 1 tablespoon butter in same skillet.
Add brussels sprouts; stir 1 minutes.
Add broth; cover and simmer on medium heat for about 7 minutes or until Brussels sprouts are almost tender.
Uncover and simmer until broth evaporates.
Using a wooden spoon, push Brussels sprouts to the sides of the skillet.
Melt 1 tablespoon butter in the center of the skillet.
Add shallots; cook stirring frequently until tender.
Stir in marjoram and cream.
Simmer until sprouts are coated with cream, stirring frequently.
Season with salt and pepper.
Add half of pine nuts and mix well.
Transfer Brussels sprouts to serving dish.
Sprinkle with remaining pine nuts.