Brussels Sprouts With Garlic and Lemon
karen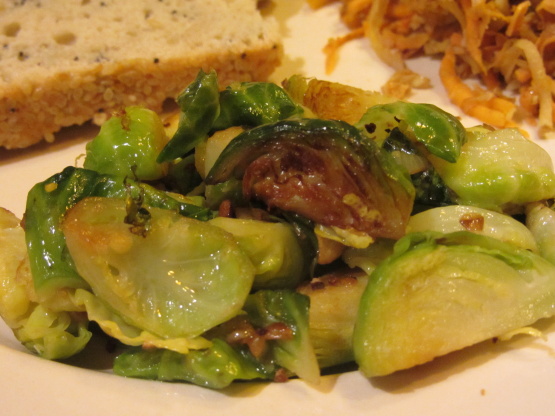 If you like garlic & lemon, here is a very nice way serve a great favorite of mine, Brussels sprouts.

Top Review by karen
I really loved this recipe. I made it exactly as follows other than adding a tiny bit extra of olive oil and water. I'll definitely be making this again. Thanks Syd!
In a saucepan over a medium setting, heat the oil, then add garlic & cook about 30 seconds, or until fragrant, then reduce heat to low & add Brussels sprout leaves & cores.
Cook, stirring often, for about 10 minutes, or until Brussels sprouts soften & just start to brown.
Add 2 tablespoons of water, then cover & cook another 5 minutes or until cores are tender.
Season with lemon pepper, (salt, if using) & the lemon zest., before serving.