Brussels Sprouts With Balsamic Vinegar
Parsley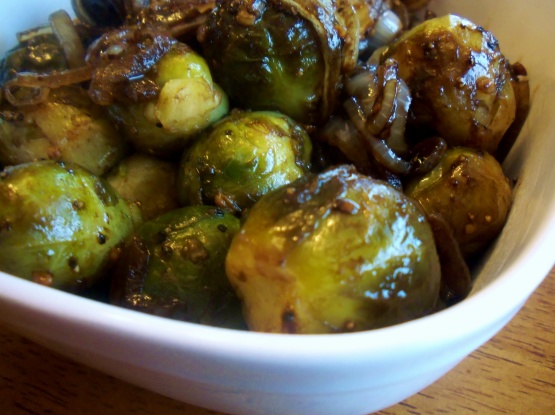 This is from The Frugal Gourmet Celebrates Christmas!! I've done nothing to this recipe except share it, it is great the way it is!!
My husband and I were not big fans of brussels sprouts until we tried this recipe. It is delicious!
Trim off the stems and remove any limp leaves from the Brussels sprouts. Blanch the sprouts in boiling water to cover for 5 minutes. Drain and rinse under cold water to stop the cooking.
Heat a large frying and add the olive oil, garlic,and onion. Saute a few minutes until the onion just becomes tender. Add the blanched drained Brussels sprouts. Saute a few minutes until the Brussels sprouts are cooked to your liking. Add the vinegar and toss so that all the sprouts are covered with the vinegar. Add the butter and salt and pepper to taste and toss together again.
Remove from heat and serve.