Brussels Sprouts With Almonds and Lemon Rind
BarbryT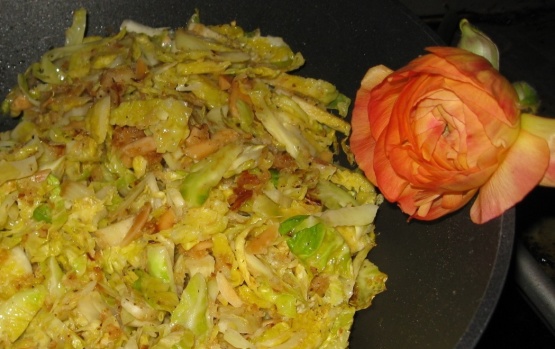 Adapted from The Silver Spoon Italian cookbook, this recipe helped dissolve my life-long prejudice against brussels sprouts, which my mother had always steamed and served plain in my childhood. I recommend this recipe to everyone, but especially those who are trying to push themselves to develop a taste for those foods which they have historically shied away from.

Top Review by GiGil
It definitely was better than the boiled soggy brussel sprouts that I grew up with. Though I liked it enough to have a large serving, there was still some bitterness to the recipe. Could it be that the spouts were larger? Or, I read in another site that cutting the core out completely will remove the bitterness, would that help? Either way, I would recommend to try this.
1

lb Brussels sprout, finely chopped
1⁄4-1⁄3 cup raw almonds, chopped

2 -3

tablespoons lemon rind, minced

2 -4

tablespoons plain breadcrumbs
Rinse and chop the hard ends off the brussels sprouts. Cut each brussels sprout in half, then, with flat surfaces down, sliver each brussels sprout into three to five parts. If you're running low on time, leave brussels sprouts whole and steam them while you are preparing the rest of the ingredients.
Using a food processor or a knife, roughly chop almonds so that pieces are no smaller than corn kernels.
Using a peeler, peel several strips of rind off a carefully washed lemon. Mince strips.
In a medium saucepan, melt butter. Once fully melted but not smoking, add almonds, lemon rind, and plain bread crumbs. Sautee until golden brown.
Add brussels sprouts to pan with a dribble of water, olive oil, or a mixture of the two so ingredients do not burn. Cover pot and check every couple of minutes, stirring each time, until the brussels sprouts are a bright green. Sprinkle with salt and pepper to your taste.