Brussels Sprouts & Water Chestnuts
Parsley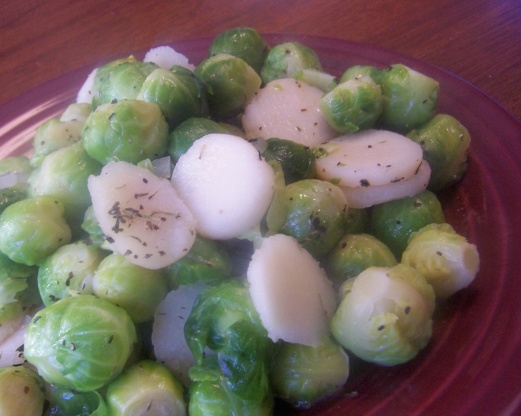 This is such an easy recipe and it does dress up the sprouts - the chestnuts stay crunchy. I sometimes add a few button mushrooms too.

Top Review by yooper
Wonderful recipe Bergy! I followed the recipe exactly except I cheated and used a bag of frozen sprouts. I also used the Splenda so I could stay legal on my low carb diet. I loved the crunchiness of the water chestnuts and the finishing touch of the lemon juice gave this a wonderful "tangy" flavor! This is easy enough to do every day, and yet impressive enough to serve to guests or at a Holiday meal!
Bring broth to a boil, add sprouts and simmer uncovered for 7 minutes, or a bit longer depending on the size, they should be fork tender, drain well.
Add butter,sugar, thyme, chestnuts salt& Pepper to the sprouts.
Saute until the sprouts/ chestnuts are hot and glazed.
Squeeze or sprinkle the fresh lemon juice over them.
Serve hot.