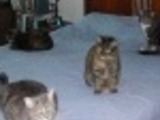 Posted for Zaar World Tour 2005. From a cookbook of countries along the Danube, this came from Germany. The original recipe called for a tablespoon of salt but I cut it down to a teaspoon (particularly since the sprouts are cooked in broth). Cooking time includes chilling time. I have not tried this recipe yet. Update - tried for Christmas as per Elmotoo's comment. Very pretty with tomatoes, and I thought there was too much vinegar in the dressing so I suggest reducing to 1/4 cup as per current ingredients list.
Directions
If using frozen brussels sprouts, cook according to package directions with broth instead of water.
If using fresh, wash well and trim all outer leaves. Bring broth to a boil and add sprouts. Bring to a boil again and cook uncovered for 15 minutes or until tender.
Drain sprouts and place in a bowl.
Pour vinegar and oil over the top and sprinkle with dried spices, salt and pepper. Toss to coat. Chill for 2-3 hours or overnight.
Halve the tomatoes and add to sprouts. Taste for seasoning.
Sprinkle with fresh chives and dill before serving.
Reviews
Most Helpful
I had hoped the add ons would make brussel sprouts palatable to the kids. This did not occur and, with my kids, was probably too high of an obstacle to clear. Accordingly, the kids gave it an average 1.67 stars. For my tastes, I though it was a good twist on brussel sprouts, although perhaps included too much salt.
Made & reviewed for ZWT 4 ~ Kumquat's Kookin Kaboodles! I happen to LOVE sprouts & was excited to try this as I've never even heard sprouts & salad in the same sentence before! I made this as written except I used apple vinegar.... the resulting salad was very tasty & even my 6 year old son ate it without complaining ; )

Ooh, this made a nice supper warm along with a potato salad. I used red wine vinegar and halved the recipe. Thanks!