This is Dh's invention and my favorite way to eat Brussels sprouts. He calls all his culinary creations whatever-it-is mojo, hence; Brussels Sprouts Mojo. This dish cooks in 2 minutes so it's best to have all the ingredients measured out into a small bowl and waiting before beginning the cooking process.
Directions
Use a food chopper or food processor to roughly chop the Brussels sprouts, leaving a few larger pieces (up to 1/2"); heat the olive oil in a skillet over medium heat; add the sprouts and garlic and saute 1 minute.
Add the remaining ingredients and saute for 1 additional minute; total cook time for the dish is 2 minutes; do not overcook; serve hot.
Most Helpful
Mojo maybe, but I would call this brussels sprouts over-the-top! Unique but excellent recipe. Some of my brussels sprouts were still in large chunks after processing in my food processor so I cooked this a bit longer. I also added cashews and olives, reduced the oil by a bit and used a non-stick pan. Instead of pesto I used pieces of sun-dried tomato. As a result it was a bit dry, but still really delicious! Please thank your husband very much sugarpea. I will definitely be making this again:D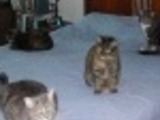 Made this with Xmas dinner. My guests raved about it, but I was not quite thrilled with the texture. Everyone (myself included) loved the flavor. I think the sun-dried tomato pesto I used was a bit too grainy. I'll look for a smoother blend and try it again. Thanks!
My family loves brussel sprouts, I personally do not! This recipe was a big hit with everyone, even me! I didn't have any sun-dried tomatoes, so I couldn't use them, but substituted regular pesto, with added drained Rotel tomatoes. This made a perfect accompaniment to ribs, and baked barley. Easy to put together, and it made a brussel sprout lover out of me! Thank you and to your husband too!