Gina K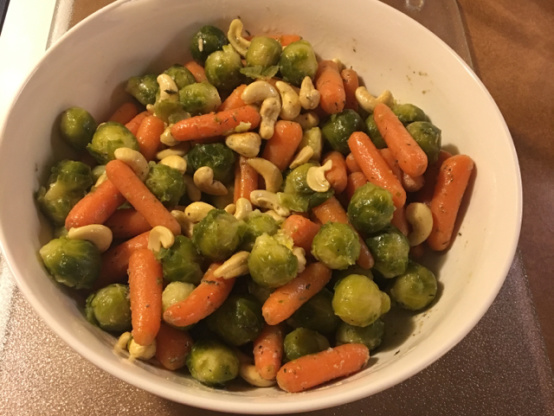 I love brussels sprouts, and am always looking for new ways to make these. This recipe came from Southern Livings 40 Years of our Best Recipes. It adds the delicate flavors of carrot and celery to the brussel sprouts, with a crunchy cashew topping.

Rather than boil the vegetables, I steamed them, wanting to retain as much of the nutrients as possible! Also used lemon pepper in place of the usual S&P, but otherwise the recipe was followed, & we were very, very satisfied with these tasty little spheres! The nut-&-butter topping was outstanding & the recipe, a definite keeper! Thanks for sharing it! [Made & reviewed in Went to the Market tag]
Wash brussels sprouts thoroughly and remove discolored leaves. Cut off stem ends and slash bottom of each sprout with a shallow X.
Place water and bouillon cubes in a medium saucepan; bring to a boil. Add brussels sprouts, carrot, and celery; return to a boil.Cover, reduce heat and simmer 12 to 15 minutes or until vegetables are tender. Drain, place vegetables in a serving bowl.
Melt butter in a small skillet; add cashews and seasonings. Cook over low heat 3 to 4 minutes or until cashews are lightly toasted; pour over vegetables.