Brussels Sprouts in Garlic Butter
SharonChen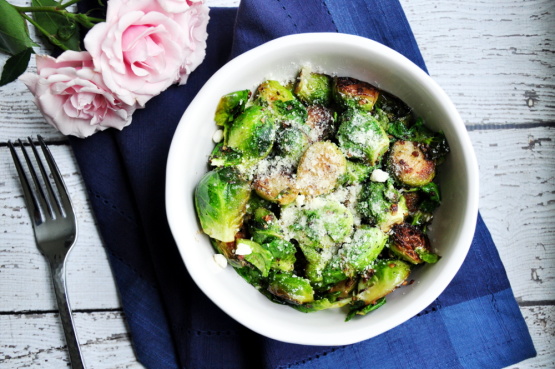 This is a recipe from Joy of Cooking... totally changed my mind about Brussels Sprouts! It's imperative that you use fresh sprouts, the texture would be way off with the frozen ones.
Normally I steam the brussel sprouts then saute in browned garlic butter and sprinkle with parmesan. So I figured this was just another avenue to the same thing. WRONG!!. These are fabulous and far superior to the way I made them before. The cooking time was perfect and the brown roasty part is an excellent touch. Even with exactly the same ingredients this technique produces a much better result. Do not forget to salt and pepper liberally. At the end of cooking I did swirl in another pat of butter. Only minor problem is that if you are cooking for a crowd you will need a couple of pans. This will be my sprout standard from now on. Now I am sure I want to adopt Tracy.
Melt butter and olive oil in a medium skillet (over medium-high heat) until butter is foamy.
Reduce heat to medium, add smashed garlic and cook until lightly browned.
Remove garlic and discard.
Add sprouts cut side down, cover, and cook without stirring on medium-low heat 10-15 minutes or until tender when pierced with a knife.
The cut side of the sprouts should get nice and browned, with a nutty, buttery flavor enhanced by garlic.
Top with freshly grated parmesan and salt& pepper to taste.