Brussels Sprouts Gratin (Food Network Magazine)
Parsley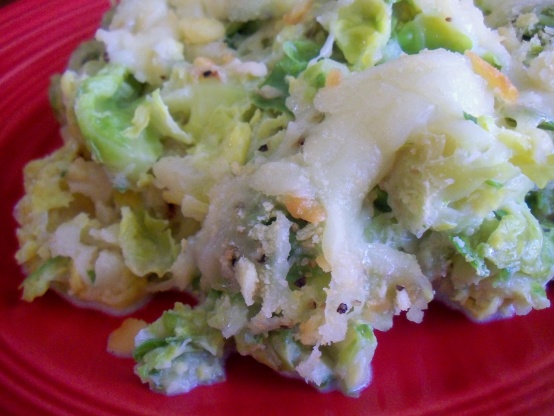 From the LEARN TO LOVE IT section of the Food Network Magazine. They wrote, "If you think you can't stand Brussels sprouts, give this cheesy dish a try." Well, I like Brussels sprouts, but thought I'd give it a try anyway. Rich, creamy dish. I made exactly as the original recipe called for (which I have copied here), but in the future I wouldn't use quite so many breadcrumbs (the breading on top seemed a little thick and heavy). But delicious and pretty easy to make! (Recipe copied from FOOD NETWORK MAGAZINE, November 2010 Issue, Pg. 68)

I made this for Thanksgiving last year and it was the only dish that was finished by the middle of the meal. My whole family LOVED it... esp. the children. I do not like to change recipes but I admit to using half and half in place of the cream and it works.
Preheat the oven to 400 degrees and butter a 2-quart baking dish. Bring a large pot of salted water to a boil. Add the Brussels sprouts and cook until tender, 8 to 10 minutes.
Drain the Brussels sprouts and coarsely chop. Transfer to the prepared baking dish and toss with the red pepper flakes, and salt and pepper to taste, then spread out evenly. Pour the cream on top, sprinkle with the cheese and breadcrumbs and dot with the butter pieces.
Bake the gratin until bubbly and golden brown, about 15 minutes.