Brussels Sprouts, Baby Carrots, and Pecans in a Maple Sauce
Boomette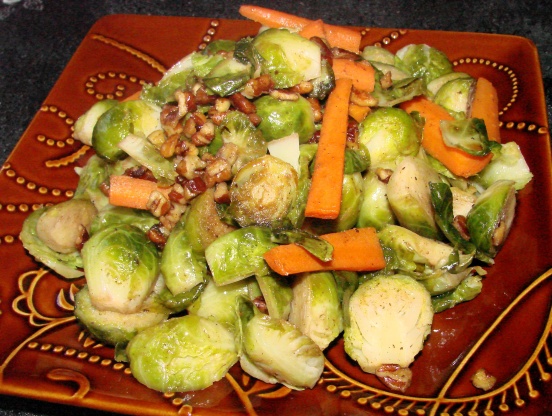 I made this tonight and it was delicious! My 6 year old ate his brussels sprouts-HAPPILY!. I served it with Hungry Man pork tenderloin#162841 and mashed potatoes. Finally, a different veggie dish!

Nice dish. Made for PAC 2010. A couple of changes, but didn't change the overall taste. I used regular carrots, the babies have no flavor to me, however they are convenient. I added 1 small shallot, thin sliced, just a tablespoon or so. I made it in two batches in 1/2 with the original recipe and any changes I made, and I liked a little onion flavor. The sauce was great, I added some pepper as well and used real maple syrup, but I don't think that is critical, but does make a difference if you can use the real stuff. But the flavor would still be good. I pan sauteed my veggies in a pan vs a pot with 1" of water so they are not submerged. I like the flavor I get and they seem to cook much evenly and quicker. I don't like to submerge them in water is all. However, those changes are not flavor altering. The recipe tastes great. I made it for my Dad tonight, although I already tasted mine. He has to reheat it, but I think it should be fine. Mine was excellent!! Thx for posting
Place brussels sprouts and carrots in a large saucepan ;cover with water. Bring to a boil. Reduce heat; cover and simmer for 8 minutes or until crisp-tender.
Meanwhile, in a large skillet, saute pecans and chili powder in butter for 2-3 minutes. Drain vegetables;add to pecan mixture. Stir in the maple syrup , vinegar and salt. Cook and stir for 3-5 minutes or until brussels sprouts are tender. Serve with a slotted spoon.