Boomette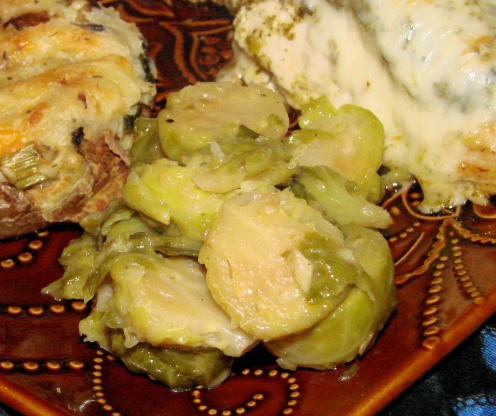 This is a really good way to cook brussel sprouts, one of my favorite vegetables.

Top Review by karen
I think this may be the best brussel sprout recipe I've tried. I basically followed the recipe except for switching the chicken stock to white wine, not adding the additional butter at the end and using dried parsley instead of fresh. Love how they were basically steamed through and infused with so much flavor. Will definitely make again.
Wash brussel sprouts thoroughly; removed discolored leaves and cut off stem ends, slashing the bottoms of each sprout with a shallow "X". Set aside.
Saute garlic in 1 tbsp butter and the olive oil in a medium skillet over medium heat, stirring constantly, until tender. Add the brussel sprouts, stirring gently to coat. Add the chicken broth, salt, and pepper. Bring to a boil. Cover; reduce heat and simmer 10 minutes or until tender. Drain.
Add the last 1 tbsp butter to the skillet with the brussel sprouts. Add the chopped parsley and lemon juice (if you want). Stir gently, and heat over low heat until the mixture is heated thoroughly.