Brussels Sprout Salad With Walnuts
Annacia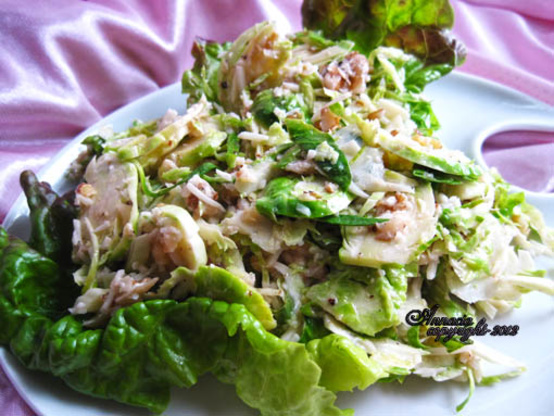 Thinly sliced Brussels sprouts make a delicate coleslaw texture, enhanced by a classic vinaigrette.

Delicious. I didn't bother removing the cores, since my sprouts were quite small. I am going to try a little minced garlic in the dressing next time. Made for Spring 2014 PAC.
Slice Brussels sprouts across in 2 mm strips, using a food processor or slicer. Discard cores (use for healthy snacks.)
Chop walnuts into 1 cm chunks.
Grate cheese (aged Gruyere, not processed smoked Gruyere) (or parmesan).
Toss cheese with sprouts and nuts.
Whisk together mustard, oil, vinegar, salt and pepper, until blended.
Pour over salad, toss lightly, and serve.