Bruschetta with White Beans, Tomatoes and Olives
Prep 1 hr 30 mins
Cook 1 min

Makes a great appetizer for parties!
Directions
Place beans in large saucepan.
Add enough cold water to cover by 3 inches.
Bring to boil.
Cover and remove from heat.
Let stand 1 hour.
Drain beans; return to pan.
Add enough cold water to cover by 3 inches.
Bring to boil.
Reduce heat and simmer until tender, stirring occasionally, about 1 hour 10 minutes.
Drain and cool.
Transfer 1 1/2 cups beans to medium bowl (reserve remaining beans for another use).
Mix in tomatoes, olives, 4 tablespoons oil, basil and garlic.
Season to taste with salt and pepper.
Preheat broiler.
Place bread on baking sheet.
Brush with 2 tablespoons oil.
Broil until golden, about 1 minute.
Spread with cheese.
Top with bean mixture.
Most Helpful
This very well may be the perfect food! It's got it all...and flavor too! Try it, you'll love it!!
Really, really tasty. I did not use any olive oil at all, and did not miss it a bit. When I started making this recipe, I was startled to find that there were no instructions to add vinegar. So I initially left it out and included some balsamic vinegar on the table to serve. Had a couple bites without it and although I don't think you'll necessarily need it I still added some to mine (as did my BF). I recommend adding very little though, maybe a couple of tablespoons, depending on your taste preferences. Although it would make a great appetizer (no doubt it would be a popular one), it's a little messy to eat without a plate. (You may want to hollow out the baguette which would help the toppings stay in place.) Thanks very much Bev, I will be making this again! I love bruschetta and I sure loved this version! Excellent!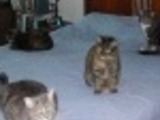 This is a GREAT appitizer. It's not to heavy nor is it too spicy. I've made this on several occasions. Easy to make and everyone loves it. I origionally found it in Bon Appetit September 1998. Thanks for reminding of it. I was looking for something easy to make for a party this weekend.